Agent 5 is a character in arctic thunder.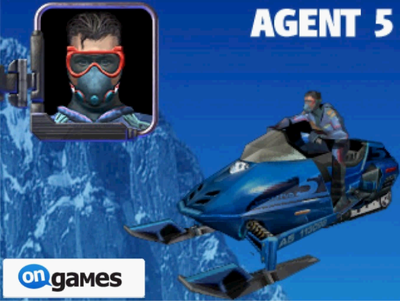 Real name : Andrew White
Species: Human (Male)
Nationality : Austrailian-American
Age : 36
Gender : Male
Occupation : Snowmobile Racer,Government Agent, Thrill Seeker, Extreme sports fanatic.
One of the starting characters. He participated after he saw a newsflash about "Snowmobiling Renegades" on tv (as seen on the intro). He drives a sled called "Gadget".
He is one of the heroes / good guys of the series.
Quotes
[
]
"Let's go!" - When Selected
"Okay!" - When Selected
"I'm ready!" - When Selected
"Wise Choice." - When Selected
"Right On!" - When Selected
"You can`t Mess With Me!' - Kill Confirmed
"Take that!" - Kill Confirmed
"Later!" - Kill Confirmed
"Cheerio!" - Kill Confirmed
"See ya!"-Kill confirmed
"I'll be back." - Time Expires
"Oh, Blimey!" - Time Expires
"See ya... HAHAHA!!!!!!!" - Super Boost Activated