Coco Z is a snowmobile racer and playable character in the home version of Arctic Thunder and Ultimate Arctic Thunder.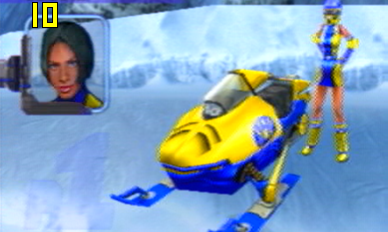 Real Name : Coco Zendaya
Sled name:Mischeif
Nationality :African- American
Age : 19
Gender : Female
Species:Human
Relatives:Unnamed parents
Occupation : Scuba diver, Thrill Seeker,High school student(grade 12),Snowmobile Racer
Favorite food:Fish
Favorite music:Any ocean-themed songs
Favorite movie:Finding Nemo
Coco Z. is a standard unlockable character in the home version,where she can be unlocked in the unlockables section in the upgrade shop when you collect 35000 points or higher. Coco was born in the Cape of good hope. She moved to the US.for college. She wanted to be a scuba diver,so she took her first lessons at age 18. Coco Z. was raised in a poor family,so she participated in the arctic thunder sled races along with her best friends, Candy Ice and Randy Rancid to earn more money. The 3 promised to split the money and fame between each other if 1 of them has won all 12 gold medals.She drives a sled called "Mischeif".
"Get your groove on, boy! - When Selected
"You picked the right one, baby!" - When Selected
"Right on!" - When Selected
"Taste Some Snow!" - Kill Confirmed
"Take that!" - Kill Confirmed
"Leave em' with you!" - Kill Confirmed
"Wohoo!" - Super Boost Activated
"I'll get ya next time!" - Time Expired
Community content is available under
CC-BY-SA
unless otherwise noted.