Dirty McCurdy is a snowmobile racer and a playable character in Arctic Thunder.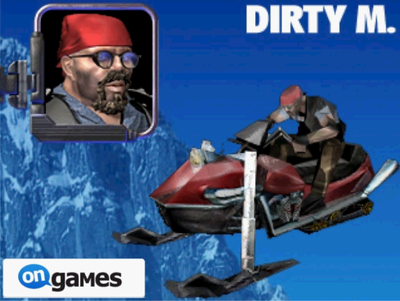 Real name : Brutus McCurdy
Sled name: Ice Hog
Species: Human
Nationality : American
Age : 45
Birthdate: March 2,1971
Birthplace:Seligman, Arizona
Gender : Male
Occupation : Snowmobile racer, Biker, Thug,Outlaw
Favorite color:Red
Favorite Food:Fried chicken
Favorite Music:Heavy metal
Favorite movie: The Wild Angels
Alignment:Bad
Enemies: Willie Quinn
Brutus "Dirty" McCurdy is a playable character in both arcade versions and the home version of the game. In the home version, he is one of the characters available from the start of the game. Dirty McCurdy is a muscular, middle aged man with fair skin, a bushy dark brown mustache, and a bushy dark brown beard with grey accents. He wears sunglasses, a bright red skullcap, a light blue-grey shirt, a black biker`s vest brown pants, and black boots. Dirty McCurdy is an American Biker and a thug who was responsible for killing Willie Quinn`s mother. He escaped before Quinn could catch him and converted his motorcycle into a snowmobile,calling it " Ice Hog" and entered the Arctic Thunder snowmobile races to hide from Quinn, until he found out Quinn would be participating, too. McCurdy is mean,ruthless,merciless,wily and base.
"I'm gonna mess them up!" - When Selected
"They`re all going down!"-When selected
"Take That!" - When a Kill is Confirmed
"Comin' Thru'!" - When a Kill is Confirmed
"You're all going down!" - When a Kill is Confirmed
"Aw, nuts!" - When Time Expires
"Aw, Man!" - When Time Expires
"I got you next time!" - When Time Expires
Dirty McCurdy`s real name and alias reflect his evil nature.
He is an outlaw.
Community content is available under
CC-BY-SA
unless otherwise noted.