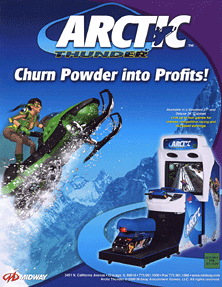 Welcome to the ATD
Edit
Arctic Thunder is a snowmobile racing video game developed and published by Midway Games and released for arcades in 2000. The following year,the game was ported to the PlayStation 2 and Xbox consoles, being a launch title for the latter.The graphics in the Xbox version match that of the arcade version, while the graphics on the PS2 version are significantly lower. The home version features more avatars,tracks,power-ups tricks,and options than the arcade version. Both ports were developed by Inland Productions. In 2004,Betson Enterprises released an upgrade of the original arcade version,titled Ultimate Arctic Thunder,which featured two avatars and two tracks which were previously exclusive to the home version. The arcade version of the game features a vibrating seat and fans that blow cold air in the player's face while he or she plays the game,opting for a more realistic experience. This is the third game in Midway's Thunder series of racing games, which also includes Hydro Thunder its sequels Hydro thunder Hurricane and Hydro Thunder GO, 4 Wheel Thunder, and Offroad Thunder. A sequel, Arctic Thunder Avalanche is currently being planned for a 2020 release, and will feature new avatars, new tracks, new power-ups and new tricks, some of which were previously featured in the home version. This will be followed by a third game, Arctic Thunder Blizzard, in 2021,which will feature yet even more content than the previous games and be the final installment in the series.The Xbox version of the game is not currently compatible on the Xbox 360 or Xbox one.
Starting Avatars
Edit
Dirty McCurdy: A Biker
Mai Zhou Lin: A martial arts master, gymnast, and olympic gold medalist
Agent 5: A government agent
Willie Quinn: A jamaican surfer and bobsledder
Ponzo: An extraterrestrial primate
Candy Ice: A hot young mechanic
Unlockable Avatars
Edit
Coco Z.: A scuba diver
Indigo: A spy
Smokey Jones: A police officer
Sargeant Thud: A drill instructor
Britaney Blaze: A british cheerleader
Jacque Rocket: A french formula 1 racer
Zach Toxic: A nuclear scientist and radiation worker
Randy Rancid: A punk rocker
Louie Rocco: A new york taxi driver
Fukizaka: A ninja
Ian McGee: A scotsman
Sven Thorson: A viking
Mr. Flakey: A living snowman (Bonus Character)
Starting Tracks
Edit
Lost Himalayan City (Easy)
Chernobyl Meltdown (Easy)
Blizzard in D.C (Medium)
Swiss Alps (Medium)
Haunted Forest (Hard)
Alaskan Pipeline(Hard)
Unlockable Tracks
Edit
Winter Sports Park (Hard)
Logging Run (Hard)
UFO Encounter (Hard)
Great Wall Of China (Hard)
Atlantis (Hard)
Thrill Chill Funpark (Hard)
Starting Sleds
Edit
Ice Hog (Dirty McCurdy)
Jade Dragon (Mai Zhou Lin)
Gadget(Agent 5)
Wailer(Willie Quinn)
Banana Splitter (Ponzo)
Snow Kitten (Candy Ice)
Unlockable Sleds
Edit
Mischeif (Coco Z)
Shadow (Indigo)
Cruiser (Smokey Jones)
Full Metal (Sargent Thud)
Old Glory (Britney Blaze)
Euro Jet (Jacque Rocket)
Reactor (Zach Warhead)
Snot Rocket (Randy Rancid)
Bessie (Louie Rocco)
Snow Sai (Shadow)
Bagpiper (Ian McGee)
Gallion (Sven Thorson)
Snow Truckster (Mr. Flakey)
Latest activity
Edit
Community content is available under
CC-BY-SA
unless otherwise noted.